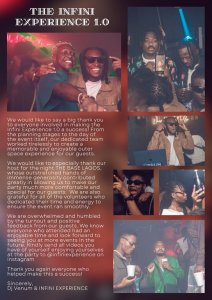 On Saturday April 29th, guests were hosted to the the first edition of a one of a kind trip to outer space experience at The Base Nightclub in Gbagada Lagos.
The event was geared towards promoting quality music and showcasing the best of nightlife culture. The Infini Experience had in attendance special guests, including serial street motivator, Superwozzy, international video director Naya Effectz, exceptional creative artist, model and dancer, Hermés Iyele and a host of other international celebrities.
DJ Venum captivated the crowd with an intense set while introducing the crowd to new and coming sounds from some of the artists in attendance.
The second edition of the Infini Experience is due to take place in Lagos soon. Make sure you're a part of this!
See Photos Below