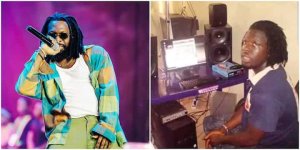 Nigerian dancehall maestro Inetimi Timaya Odon, popularly known as Timaya, has sparked emotions online with a picture of his humble beginnings. The dancehall artist took to social media to emphasize the advantages of hard work if one remains consistent with their goals.
Timaya gave a mini-TED talk on the benefits of holding on to one's big dreams in life. He was able to drive the nail on the head with a shared a retro picture of him in a music studio.
"Your Big dreams & consistency are what will take you far."
His post elated his fans, knowing how far the plantain singer has come, beginning from the days of his Dem Mama hit track to his recent street anthem Sweet Us.
See Timaya's post here: