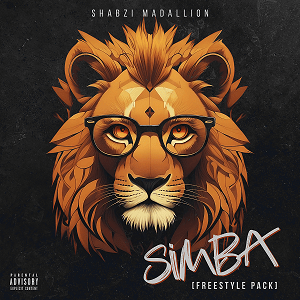 South African rap artist, ShabZi Madallion, sets the stage ablaze with the release of his 8-track freestyle pack, "SIMBA." The mixtape, now available for streaming and download, showcases ShabZi's unparalleled lyrical finesse and authentic storytelling prowess.
"SIMBA" features a compilation of ShabZi Madallion's most celebrated freestyles, including his exhilarating spin on Nasty C's track "No Big Deal" and the enthralling "Ithuba" freestyle challenge, originally by Cassper Nyovest. Having garnered massive love on social media for these captivating performances, fans can now indulge in these exceptional renditions in one seamless collection.
In addition to these beloved tracks, "SIMBA" introduces two fresh freestyles that will undoubtedly resonate with listeners on a profound level. With "Words I could've Said Last Year" and "Soul Business," ShabZi bares his soul and takes a poignant look back on the past year, offering listeners a glimpse into his personal journey and experiences. This introspective side of ShabZi has struck a chord with fans, and "SIMBA" delivers an immersive and thought-provoking experience.
The title "SIMBA" is a reflection of ShabZi's unwavering commitment to his craft and his bold, fearless approach to music, embodying the pride of his clan of Lions. Each track on the mixtape exemplifies his masterful command of language, effortlessly weaving compelling narratives and unforgettable verses that leave an indelible mark on the hearts of his audience.
To experience the essence of true lyrical artistry and immerse yourself in the world of "SIMBA," visit ShabZi Madallion's official website, where the mixtape is now available for download. You can also stream the project on SoundCloud: 
ShabZi Madallion invites you to join the conversation and share your thoughts on "SIMBA" through social media. Connect with him on @ShabZiMadallion, and be a part of the hip-hop movement.