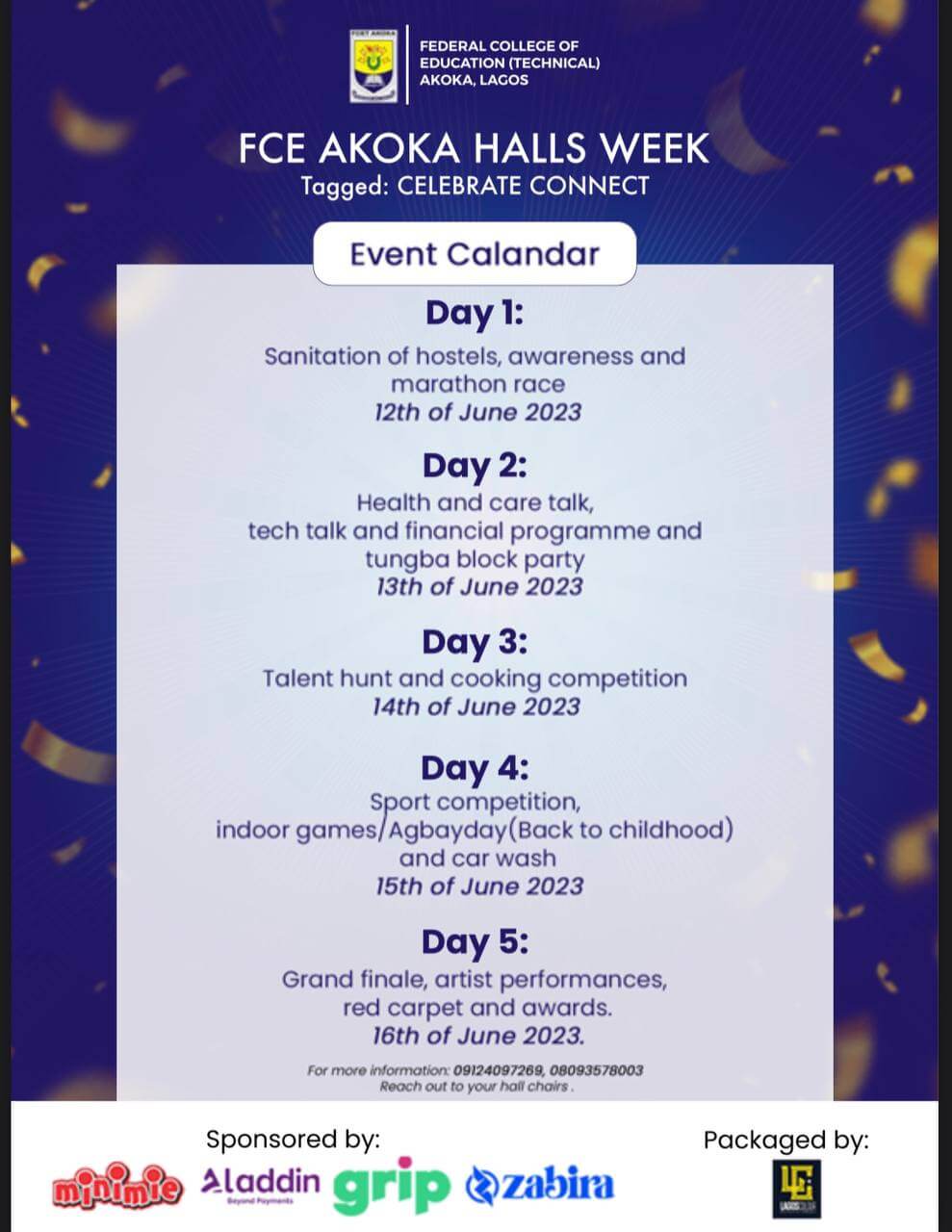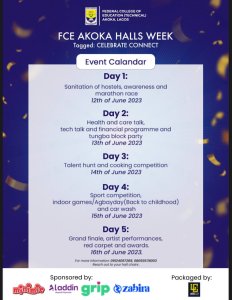 FCE AKOKA HALLS WEEK 2023.
 The hall week is a major social event that holds in each hall residence. It is an annual event that lasts for a week (Monday to Friday). 
The hall week is set to take place on the 12th of June to 16th of June 2023, tagged "CELEBRATE CONNECT". 
The Hall week is an avenue for interaction among both male and female students residing in the hall, and students who are not residing in the hostel.  
The program is an avenue where they conduct the Halls competitions at all levels, talk shows, entrepreneurship classes, celebrity appearance, cooking competition many more. These will aid participation among the residents of the hall, and students as well as create more buzz for the purpose of this event.
This year's edition is set to have HYCETHEGREAT, DJ SMALLZ, DJ SAMMY T, FABULOUSTHEHYPE, HYPEMAN MCTOWN, HYPMAN NIGHTKING, PABLOTHEHYPE and many more to join.  
FCE HALL WEEK 2023 is proudly sponsored by ALADIN, MINIMIE, ZABIRA, GRIP and supported by Dean of Student Affairs, Triple4tv, solid magazine blog and the event is been packaged by LAGOSCOLOUR ENTERTAINMENT.
Below are activities been put together to make the week a memorable and unforgettable experience.
S/N

EVENTS

DATES

1

Sanitation of hostels, awareness and marathon race 

12

th

of June 2023

2

Health and care talk, tech talk and financial programme,  tungba block party.

13

th

of June 2023

3

Talent hunt and cooking competition

14

th

of June 2023

4

Sport competition, indoor games/Agbaya day(Back to childhood) and car wash

15

th

of June 2023

5

Grand finale, artist performances, red carpet and awards.

16

th

of June 2023.
For sponsorship and more inquiry kindly send an email to [email protected], you can also reach us on 09124097269, or chat us up on whatsapp 08093578003.
You can follow us on all social media platforms for more update in respect to the event @lagoscolourentertainment.