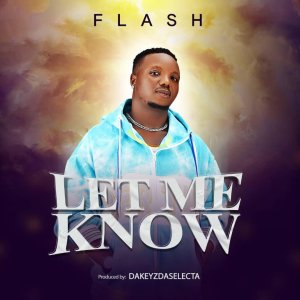 So many people keep wondering is FLASH a human or an alien as he drops his hit back to back.
Never letting down after releasing BOUNCE ALONG that got many people wondering "where has this talent been in the raving plague of good sounds and melody" vibing to it on all digital platforms, then he dropped HUSTLE which was just what every hustlers in the game needed to listen to and be motivated to keep striving on the journey to stardom and greatness.
Finally another electrifying sound which seems like never heard in the history of music was released on 1st MAY 2023, he Titled this one LET ME KNOW.
FLASH a multi talented artist, song writer and a lyrical demigod is on his way to proving good music exists and must be HEARD.
WATCH OUT BECAUSE YOU'LL HEAR BEAUTIFUL SOUNDS THAT YOU'VE NOT HEARD IN A WHILE AS EVERY SONG TELLS A STORY YOU'VE ALL BEEN IN AT EVERY POINT OF YOUR LIFE