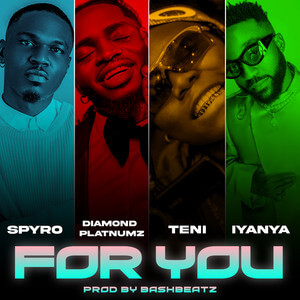 Spyro & Diamond Platnumz & Teni & Iyanya – For You
Nigerian singer-songwriter, Spyro makes a return to the music scene with an exhilarating new single titled, For You. The highly anticipated track exhibits Spyro's ability to seamlessly blend genres and features an all-star lineup, including the sensational Diamond Platnumz, the vibrant Teni, and the charismatic Iyanya.
For You represents a fusion of diverse musical talents, as Spyro collaborates with three renowned artists who brought their A-game and infectious energy to the table. Each artist's distinct flair creates a dynamic and unforgettable listening experience.
Diamond Platnumz, a force to be reckoned with in the African music industry, adds his magnetic presence and enchanting vocals to the mix. Known for his ability to create hits, Diamond Platnumz's contribution elevates the track, infusing it with his signature flavor.
With such an impressive lineup, it's no surprise that For You promises to be a chart-topping record. Spyro, Diamond Platnumz, Teni, and Iyanya's collective talents create a sonic synergy that is sure to captivate listeners. The collaboration showcases their ability to seamlessly blend their individual styles into a cohesive masterpiece, ensuring that listeners are treated to an exceptional musical experience.
Produced by a talented beatmaker, Bash Beatz, For You boasts a rich and vibrant sound. The infectious beats, catchy melodies, and impeccable production quality all contribute to creating an immersive listening experience that will leave a lasting impression.
Listen to For You HERE.